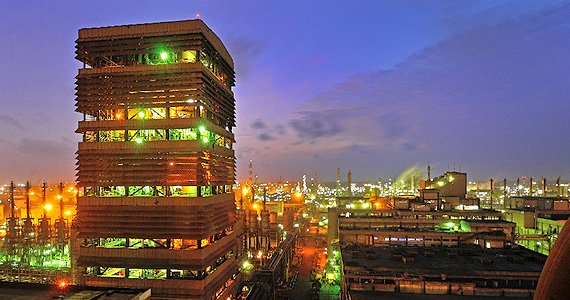 Reliance Polyester is the largest integrated producer of polyester fibre and yarn in the world, with a capacity of 2.5 million tonnes per annum.
Reliance Industries Limited (RIL) is India's largest private sector company, with a consolidated turnover of INR 330,180 crore ($ 50.9 billion), cash profit of INR 42,800 crore ($ 6.6 billion), and net profit of INR 29,901 crore ($ 4.6 billion) for the year ended March 31, 2017.
RIL is the first private sector company from India to feature in Fortune's Global 500 list of 'World's Largest Corporations' – currently ranking 203rd in terms of revenues, and 110th in terms of profits. It stands 106th in the 'Forbes Global 2000' rankings for 2017 – the top-most among Indian companies. RIL ranks 10th in LinkedIn's 'Top Companies Where India Wants to Work Now' (2017).
RIL's activities span hydrocarbon exploration and production, petroleum refining and marketing, petrochemicals, retail and 4G digital services.
RIL owns and operates one of the most integrated petrochemicals facilities globally, with a portfolio comprising of polymers, polyesters, fibre intermediates, aromatics and elastomers. With its extensive range of petrochemical products, the company provides world-class experience to its customers across a range of applications – packaging, infrastructure, agriculture, automotive, housing, and healthcare among others. RIL is the largest integrated polyester fibre and yarn, second largest paraxylene and fourth largest PTA producer globally.
RIL offers unmatched competence and a wide range of Polyesters that find value-added application in Apparel, Home and Technical textiles. Marketed under R|ElanTM brand name they have been finding acceptance with some of the most discerning customers worldwide.
R|ElanTM is an eminent name in the textile industry recognized for offering impeccable quality polyester fibres & yarns. With more than 3 decades of experience, state-of-the-art manufacturing facilities and team of industrious professionals, the company is successfully addressing the diverse polyester related needs of the industry. It commenced its operations in 1992 with a capacity to produce 10,000 tonnes pa and is currently at over 2.5 million tonnes mark.
As on date, RIL holds more than 3% global capacity share of polyester fibre and yarn. With footprints in major international textile market in Asia, Europe and America's it spans over 100 plus global markets.